Weather Conditions inKhartoum, SUDAN
---
About Sudan
Sudan is a very safe place to live in.
Please contact our X and/or existing native speakers from the Western part of the world for more information about Sudan and the school.
Please Visit Recreational Program page and Testimonials Page
The major problems in Sudan:
- There is a social life for the western people but it is limited, being an alcohol free country, but there are other outlets .You may go swimming, make some friendship with Sudanese people, go for picnics, visit famous local places and take membership in several of the western clubs in Khartoum, which offer sports facilities, it is also quite cheap to travel to other parts of Africa and we can agree if the contract allows, mutually acceptable holiday breaks.
- The heat, it is a real problem for the western people coming to Sudan .The weather is at hottest From June to September it is 40+ degrees and heavy rain. From October to April it is for some extent reasonable (28+ degrees without rain)
-None stapled electricity power supply, (the school has generator).
-The mentality of the Sudanese people. No job can be done on time and many other issues which are common in the third world, but they are so friendly and well meaning that you can forgive them anything.
Sudan: Places of Interest
CITC Sudan used to arrange regular trips for the staff to visit Begrawiya Pyramids , Jabal Aowlya Dam , Nile River Sailing and Sabaloga falls.
Khartoum and Omdurman
Khartoum is one of three sister cities, built at the convergence of the Blue and White Niles: Omdurman to the north-west across the White Nile, North Khartoum, and Khartoum itself on the southern bank of the Blue Nile.
Khartoum has a relatively short history. It was first established as a military outpost in 1821, and is said to derive its name from the thin spit of land at the convergence of the rivers, which resembles an elephant's trunk (khurtum). Khartoum grew rapidly in prosperity during the boom years of the slave trade, between 1825 and 1880. In 1834 it became the capital of the Sudan, and many explorers from Europe used it as a base for their African expeditions.
Khartoum was sacked twice during the latter half of the 19th century -- once by the Mahdi and once by Kitchener when the Mahdi was ousted. In 1898, Kitchener began to rebuild the city, and designed the streets in the shape of the British flag, the Union Jack, which he hoped would make it easier to defend. On the opposite bank of the Nile, North Khartoum was developed as an industrial area at about the same time.
Today's Khartoum is a quiet, unremarkable city. It has peaceful, tree-lined streets, and in some ways still bears the unmistakable mark of an outpost of the British Empire. Its expansion to accommodate a rapidly-growing population, however, has added very little in terms of charm or atmosphere.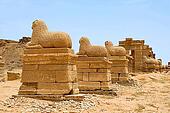 Temple of Amun lined by rams in Naga.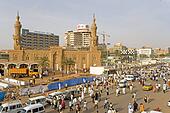 Sudan, Khartoum, around the Great Mosque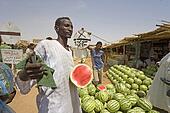 Sudan, selling watermelons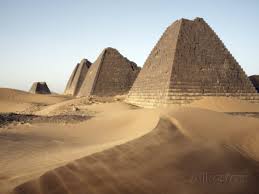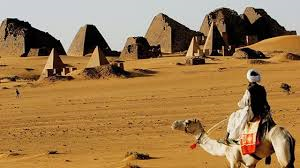 Pajrawia Pyramids
---

Khartoum: Burj Al-Fateh Hotel, in the shape of a boat with a full sail, known as 'Gaddafi's Egg' - Libyan financed hotel located near Tuti island, at the meeting point of the Blue Nile and White Nile

Omdurman / Umm Durman: tomb of the Mahdi, Muhammad Ahmed Al Mahdi, Muslim religious leader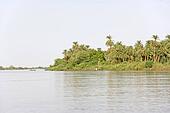 Sudan, The Sixth Cataract of the Nile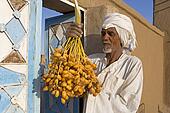 Sudan, Selling fresh dates

Camels